Go back to the roots of your N Scale Logging Empire - the original geared steam locomotive!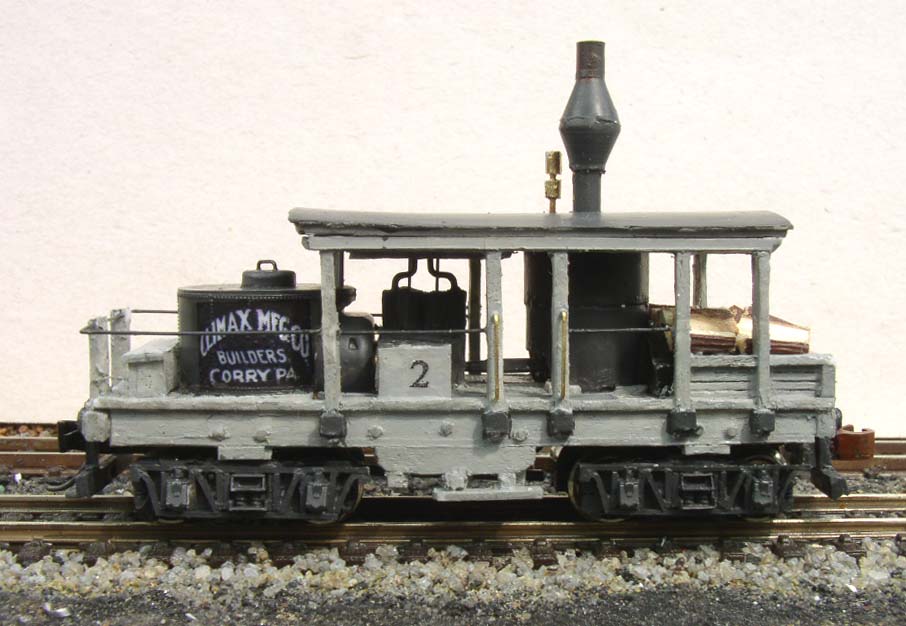 13-ton vertical boiler, open sides, original sandbox
Prototype Photo: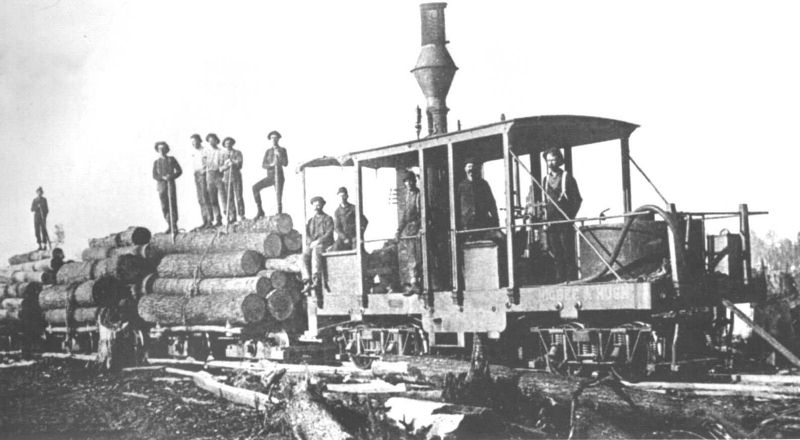 Chassis is available from some hobby shops, Ebay, and Ebay dealer "Plazajapan" on a regular basis. Kit does not include chassis.
$59. + shipping and optional insurance
This is the parts, decals, and hardware necessary to convert a Kato 11-105, 106, or 107 chassis to a 13-ton vertical-boiler Class A Climax geared steam locomotive. This is an UNASSEMBLED KIT, not a finished model. .
Here's what you get: All the cast metal and cast resin parts, decals, and hardware to add on to the basic Kato "critter" chassis. You can make several different variations in different types of cab enclosure from none at all to partially enclosed, and three different variations of sandboxes on the rear deck.. You also get an 18-page assembly manual featuring photos of prototype Class A's, links to online history resources and published books, links to online dealers selling the mechanism, detailed assembly and painting instructions with many photos.
This model features an entirely open cab – actually not impossible! – and the two-cylinder vertical engine inside, which can be detailed with piping and steam lines.
While the 18-ton Horizontal Boiler kit was possible to convert to DCC, the completely open cab on this one may make it too difficult to do. If you are needing DCC, I recommend the 18-ton kit.
Kit includes resin parts in the photo, cast metal boiler and woodpile weights for traction, various small screws, wire, and hardware, and an inkjet color decal sheet featuring "Climax Mfg. Co Builders Corry PA" plus numbers, alphabets, and logging company lettering, and the red "Gold Bug" decals for SN#'s 148 and 149, which were painted in this stunning yellow and red scheme by Climax to commemorate the 1896 Yukon Gold Rush.
Ruler and/or coins shown in photos are shown for size comparison only.
Kit does not include mechanism, paint, tools, split fuel wood, or "Z" scale MT-905 coupler recommended. Dummy couplers furnished with kit will mate with Z or N scale couplers.
If you have questions about difficulty of assembly or tools and materials required, ask for the assembly manual IN ADVANCE which I can e-mail to you as a free .PDF If you have trouble viewing the picture show above, ask a question with your e-mail address in it and I can forward you direct links of finished model photos.
The assembled model measures 27' long over the frame ends in N scale and accurately depicts an 1895-era Climax Locomotive with a vertical boiler, wood frame, round water tank, partially-enclosed cab, and interior two-cylinder steam engine. Locomotives similar to this were manufactured in Corry, PA between 1883 and 1905. They were used worldwide on small logging and industrial railroads, and operated successfully over primitive and difficult track and hash conditions.
Details of the model include:
- Durable cast resin parts throughout (CR-600 grade)
- Custom-made cast metal boiler and woodpile weights extra traction and electrical pickup.
- Body can attached to frame with removable screws
- Brass wire parts for .010 handrails, water lines, driveshaft, and steam piping
- Custom-made Climax truck-design sideframes
- Simulated under-floor gear drive train to trucks
- Minimum radius 7 ½" possible with careful assembly
- Sandbox or sand domes options
- Additional side panels for cab enclosure options
- Custom-made "Climax Mfg. Co. Builders Corry PA" decals developed from original builders photo images, including the "Gold Bug" SN#149.
- Footboards on both ends with bolt detail
- Detail includes wood-grain on sides, poling pockets, bolt heads on appropriate components, and full rivet detail on boiler and tank.
- Cab interior piping may be done to various levels of detail if desired
- Couplers may be various N, Z-905 (recommended) dummy ones furnished with the kit, or even functional link-and-pin couplers fashioned with the drawhead boxes furnished.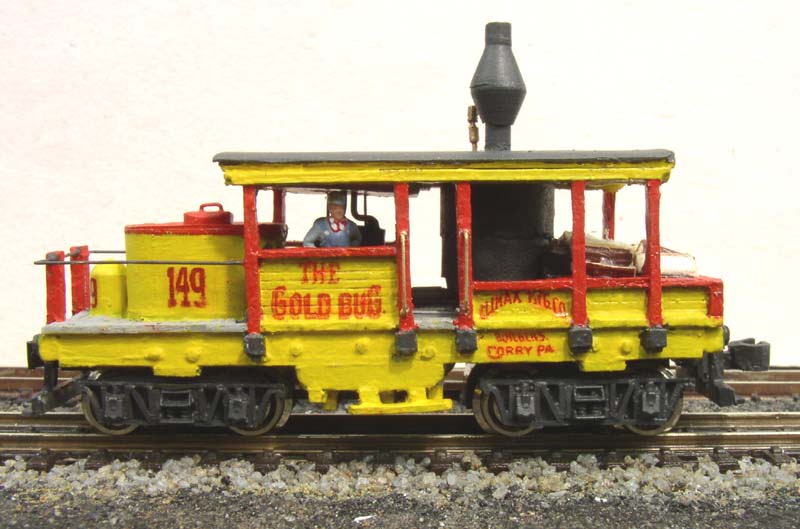 SN#149 "The Gold Bug" - decals included for this model
2/23/08: 13-ton and 18-ton models may be equipped with the incredibly tiny GM15 planetary motor/gearbox from Robotshop.ca This gives the Climax A a TOP SPEED of 9 scale miles per hour! Free supplemental instructions in .PDF format can be emailed on request!
Video of Class A with GM15 motor (YouTube)