Something different for your N Scale Logging Empire!


18-ton round tank version (left) and square tank version (right).
Prototype photo:
Chassis is available from some hobby shops, Ebay, and Ebay dealer "Plazajapan" on a regular basis. Kit does not include chassis.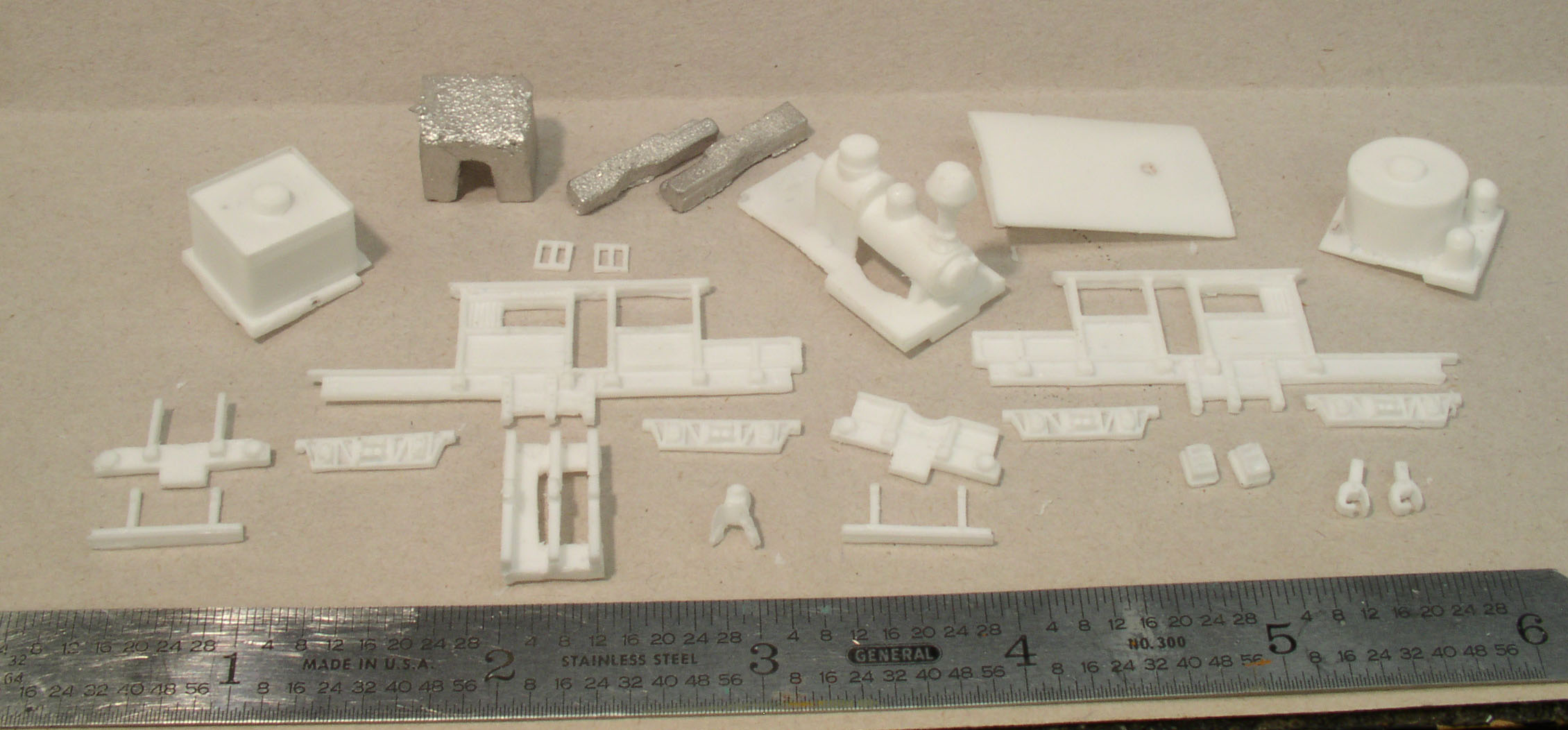 $59. + shipping and optional insurance - now with cast metal boiler standard instead of resin boiler

This is the parts, decals, and hardware necessary to convert a Kato 11-105, 106, or 107 chassis to an 18-ton horizontal-boiler Class A Climax geared steam locomotive. This is an UNASSEMBLED KIT, not a finished model, and DOES NOT include the Kato mechanism, which is available separately from online dealers and some hobby shops for $18-25.

Here's what you get: All the cast metal resin and parts, decals, and hardware to add on to the basic Kato "critter" chassis. You can get one of two versions - the round tank or square tank - your choice of one of two - both tank styles are shown below for comparison. You also get an 18-page assembly manual featuring photos of prototype Class A's, links to online history resources and published books, links to online dealers selling the mechanism, detailed assembly and painting instructions with many photos, plus tips on modifying the kit to accept a DCC receiver.

Kit includes resin parts in the photo (your choice of one of two tanks shown will be shipped), cast metal weights for traction in the photo, various small screws, wire, and hardware, and a decal sheet featuring "Climax Mfg. Co Builders Corry PA" plus numbers, alphabets, and logging company lettering.

Ruler and/or coins shown in photos are shown for size comparison only.

Kit does not include mechanism, paint, tools, split fuel wood, or "Z" scale MT-905 coupler recommended. Dummy couplers furnished with kit will mate with Z or N scale couplers.

If you have questions about difficulty of assembly or tools and materials required, ask for the assembly manual IN ADVANCE which I can e-mail to you as a free .PDF

The assembled model measures 27' long over the frame ends in N scale and accurately depicts an 1911-era Climax Locomotive with a horizontal boiler, steel frame, either standard water tank style, partially-enclosed cab, and single kerosene headlight. Locomotives similar to this were manufactured in Corry , PA between 1911 and 1928. They were used worldwide on small logging and industrial railroads, and operated successfully over primitive and difficult track and hash conditions. Similar wood-frame locomotives were manufactured between 1882 and 1920.

Details of the model include:

- Durable cast resin parts throughout (CR-600 grade)

- Roof can be made removable

- Custom-made cast metal weights in wood bin area and cab for extra traction and electrical pickup. Metal boiler now standard

- Body can attached to frame with removable screws

- Brass wire parts for .010 handrails, sand lines, driveshaft, and injector piping

- Custom-made Climax truck-design sideframes

- Simulated under-floor gear drive train to trucks

- Minimum radius 7 ½" possible with careful assembly

- metal number board/builders plate on boiler front

- Separately–cast and applied headlight

- Custom-made "Climax Mfg. Co. Builders Corry PA" decals developed from original builders photo images.

- Footboards on both ends with bolt detail

- Detail includes wood-grain on sides, poling pockets, bolt heads on appropriate components, and full rivet detail on boiler and tank.

- Cab interior may be fully detailed if desired

- Couplers may be various N, Z-905 (recommended) dummy ones furnished with the kit, or even functional link-and-pin couplers fashioned with the drawhead boxes furnished.

- Now Available! optional wood-frame version with lower sides - substituting for steel-frame semi-enclosed sides. Useful to make a pre-1911 version

And for even MORE fun......

Climax locomotives had a reputation for being just plain abused in the woods While you certainly can do the 'factory fresh' gray paint with the builder's name, it was a lot more typical to see a rolling wreck. Here's a finished model with the "full treatment"....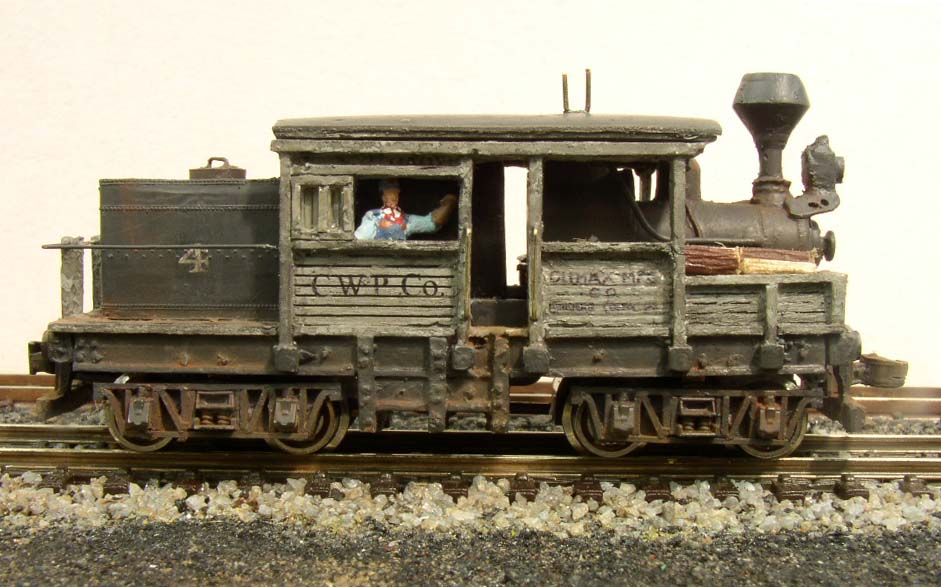 2/23/08: 13-ton and 18-ton models may be equipped with the incredibly tiny GM15 planetary motor/gearbox from Robotshop.ca This gives the Climax A a TOP SPEED of 9 scale miles per hour! Free supplemental instructions in .PDF format can be emailed on request!
Here's the 13-tonner version running on that motor and gearhead:
Video of Class A with GM15 motor (YouTube)